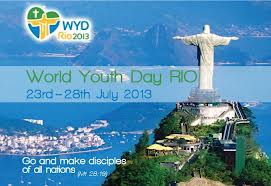 Some pilgrims or parents of pilgrims may be worried about certain tensions in Brazil. Linked is an article that clearly explains why some were worried about healthcare in Brazil during World Youth Day and why those worries should no longer continue. Read the full article about how the courts have said that the city of Rio must provide healthcare to any pilgrims in need, regardless of needing to use public funding to do so.
Here is a teaser for those who want to know the bottom line.  
The Judge stated that "the division between State and Church does not absolve the city of Rio from providing certain services to the event's participants, despite the religious nature of the event." "To deny health care assistance to pilgrims could cause uncertainty and discredit the country, not to mention the fact that it would put the health of thousands of people who will attend the event in Rio de Janeiro thinking they are guaranteed basic health care services, at risk," he said.
Taken from the Vatican Insider, written by ANDRES BELTRAMO ALVAREZ on July 12, 2013.