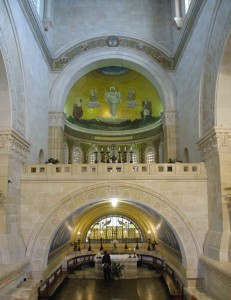 Church of the Transfiguration,
Mt. Tabor
"But he did not know what he was saying."
The Transfiguration of Our Lord and Savior, Jesus Christ, is an invitation to realize many things, but as the Gospel tells us directly, it is an invitation to one thing in particular. The Transfiguration is an invitation to: Shut.up.
In typical Petrine fashion, Peter had something to say. He was both blessed and cursed with boldness. The Gospel tells us that though he spoke during this miraculous event, "he did not know what he was saying." Often times, we bold Catholics can make the same mistake. We think we have to say something. And so we do. But in reality, before the Mystery who is God, we and others soon realize that we do not know what we are saying.
Our goal, then, is not to follow the Peter who spoke without knowing what he was saying. It is to follow the Peter who shut up. We read that after hearing the voice from heaven, "They fell silent." We bold Catholics, at the right times, would do well to follow their examples. When God is speaking and acting, revealing his glorious self… Shut. Up.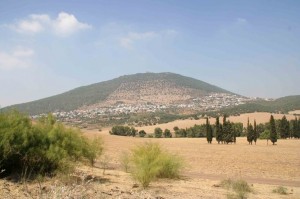 Mt. Tabor