Today's readings are not what I anticipated on the Memorial of Saint Francis. The first reading expounds upon disobedience to the Lord and the failure of the kingdom of Israel to listen to the prophets through the ages. Ancient Israel is taken to task in Baruch for its evil ways and failure to please God. As I turn to the Psalms the theme continues. The Gospel of the day heeds a similar warning. However, reading the gospel in context of Luke's chapter 10 does present a different picture.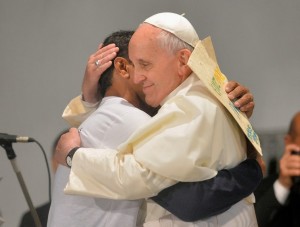 The passage is sandwiched between the mission of the seventy-two and the return of the seventy-two. As the disciples are sent out they are also told they will be rejected and if so shake the dust off your feet and move on to the next town. As the disciples return the report to the Lord "even the demons are subject to us because of your name." Understanding the context of the readings gives hope to us on earth and myself personally. Even in my worst moments when I reject Christ and fail to follow God, I'm given confidence that in his name all things are possible. And with him his mercy. The mercy St. Francis showed to all creation, especially his fellow man; a mercy emphasized and modeled for us in our current day by Pope Francis.
The Psalmist prays, "Remember not against us the iniquities of the past; may your compassion quickly come to us, for we are brought very low." And so on a daily basis I know that as the responsorial to the psalm proclaims "For the glory of your name, O Lord, deliver us", that I too can call upon God in my daily life to help protect and guide me as I move forward in my spiritual life.
(Adapted from Joe Zaborowski)