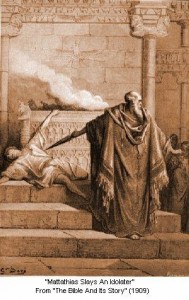 Today's texts recall the reconsecration of God's temple. In Maccabees this happens in Jerusalem, after its desecration by Antiochus Epiphanes; and in the gospel, Jesus cleanses the sanctuary after its profanation by traders in the temple courts. We might ponder on ways in which our lives and our church can become more truly a house of prayer, a temple according to God's holy purpose.


Jesus has wept over Jerusalem for failing to recognize its time of grace. Today he enters the temple and drives out the merchants and traders. His objection is not to the ritual sacrifices but to the abuse of religion for financial gain by merchants and religious leaders who were more concerned for money than the worship of God.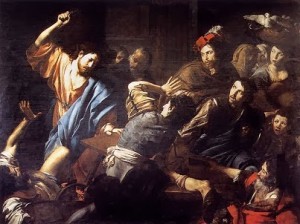 To purify the temple means to let God be supreme in our lives. That means that our business and financial dealings as well as our politics must be moderated by God's law of justice and compassion. We should bring every aspect of our daily lives – family and neighbourhood, work and recreation – into the temple, so that these can be purified, sanctified and placed under God's protection. At first, this program seems sweet and easy. But Jesus' requirements may be as stern as in today's story. As we renew our attachment to him, God can say of us, "My house is a house of prayer." Every part of life, home and family, work and play, can contribute to the depth and sincerity of our prayer, with God enthroned everywhere in our being.