God is good to the unjust as well as the just. His love embraces saint and sinner alike. God seeks our highest good and teaches us to seek the greatest good of others, even those who hate and abuse us. Our love for others, even those who are ungrateful and selfish towards us, must be marked by the same kindness and mercy which God has shown to us. It is easier to show kindness and mercy when we can expect to benefit from doing so. How much harder when we can expect nothing in return.
Augustine of Hippo (354-430 AD) describes Jesus double precept to give and forgive as two essential wings of prayer:
"Forgive and you will be forgiven. Give, and it will be given you. These are the two wings of prayer on which it flies to God. Pardon the offender what has been committed, and give to the person in need." [Sermon 205.3] "Let us graciously and fervently perform these two types of almsgiving, that is, giving and forgiving, for we in turn pray the Lord to give us things and not to repay our evil deeds." [Sermon 206.2]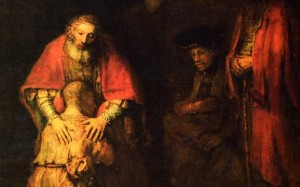 Our prayer for those who do us ill both breaks the power of revenge and releases the power of love to do good in the face of evil.
(Adapted from
Don Schwager
)