March 19th is the Feast of St. Joseph, the spouse of Mary and foster father of Jesus. This falls on the calendar just seven days before the Feast of the Annunciation on March 25, which commemorates the angel Gabriel's visit to Mary announcing that she is to give birth to the Messiah. 
St. Joseph was born in Bethlehem and worked as a carpenter, an occupation he later passed on to his Son. He became betrothed to Mary, a Virgin, in order to serve as her protector. In Matthew 2:19-23 the angel appeared to Joseph in a dream and told him to take "the child and his mother" to the land of Israel. After that event, Joseph was only referenced in Luke as the father of Jesus who was lost in the Temple and in Matthew 13:55 and Mark 6:3 as the 'Carpenter.'
St. Joseph's feast day is celebrated by many, particularly parishes with St. Joseph as their patron and many individuals that have a particular devotion to him. March 19th is also a big feast for Italians because in the Middle Ages, God, through St. Joseph's intercessions, saved the Sicilians from a very serious drought.
On the feast day, in many parishes with a large Italian population, a big altar is laden with food contributed by everyone. Most of these celebrations involve special meatless foods: minestrone, pasta with breadcrumbs, seafood, and, always, fava beans.
---
ST. JOSEPH ALTAR FUN FACTS:
Fava beans are considered "lucky" because during the drought, they thrived while other crops failed.
The breadcrumbs in the pasta symbolize the sawdust that would have covered St. Joseph's floor.

---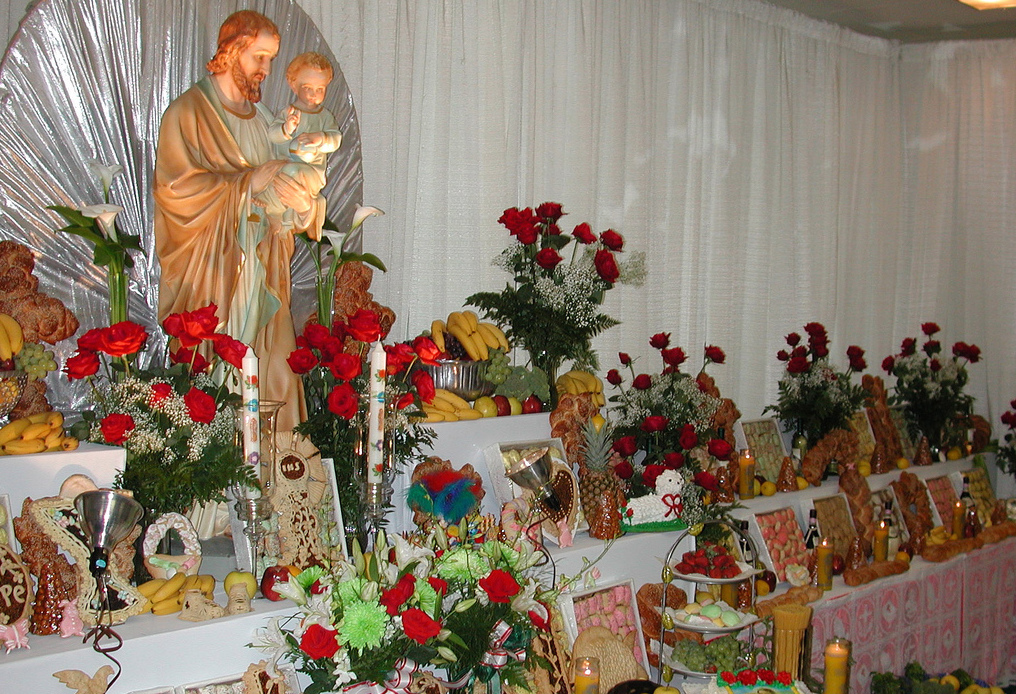 The table or altar, blessed by a priest, has three tiers, symbolizing the Most Holy Trinity. The top tier holds a statue of St. Joseph surrounded by flowers and greenery. The other tiers might hold, in addition to the food: more flowers; candles; figurines and symbolic breads and pastries. There is typically a basket in which the faithful place prayer petitions. 
When the eating is done, the St. Joseph's altar is smashed, and then three children dressed as the Holy Family knock on three doors, asking for shelter. They are refused at the first two, and welcomed at the third, in memory of the Holy Family's seeking of hospitality just before Christ was born. This re-enactment is called "Tupa Tupa," meaning "Knock Knock."
The day ends with each participant taking home a bag that might be filled with bread, fruit, pastries, cookies, a medal of St. Joseph, a Holy Card and/or a blessed fava bean.
Keep your "lucky bean," and let it remind you to pray to St. Joseph.

St. Joseph, pray for us.
For additional ways to take part in St. Joseph's feast day, check this out.