Growing up in Muncie, Indiana and attending St. Francis of Assisi Catholic Church helped make Ryan Kerrigan a man of faith and someone who understands the importance of giving back.
(Redskins) The Washington Redskins announced yesterday, December 2, that they have selected linebacker Ryan Kerrigan as the team's 2015 Walter Payton Man of the Year. Kerrigan's selection qualifies him as one of 32 candidates to receive the league-wide award, an honor given annually by the league to recognize a player's community service and volunteer efforts as well as his excellence on the field.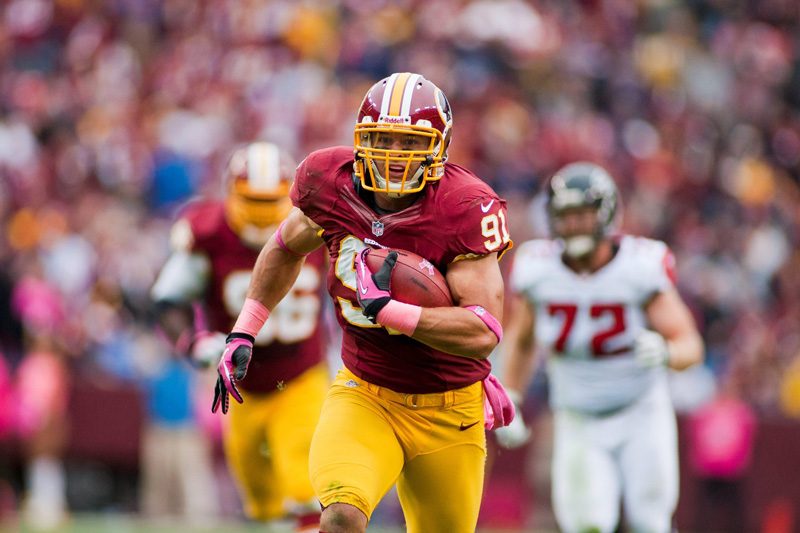 Between his work with the Washington Redskins Charitable Foundation (WRCF) and individual efforts, Kerrigan has focused on the importance of living a healthy lifestyle through physical activity and nutrition choices, supporting childhood cancer awareness, and supporting children and families in need.
"Ryan cares deeply about this community and has put a great deal of thought into the causes he supports" said Jane Rodgers, Executive Director of the WRCF. "As a result, his ability to make a difference and his impact is truly powerful. Once he decides to get involved, he does it with the same level of intensity he shows on the field."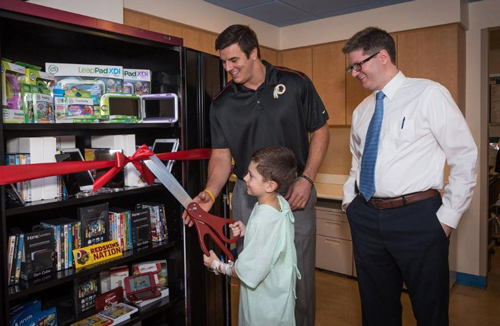 In addition to his work with the WRCF, Kerrigan, who signed a multi-year contract extension this past July, has become a fixture in the Washington, D.C. metro community. During his time in Washington, Kerrigan has launched "Ryan Kerrigan's Blitz for the Better Foundation," which aims to provide opportunities, resources, support and encouragement to seriously ill, physically challenged and special need children and their families. Blitz for the Better serves more than 18,000 children annually.
On Sept. 28, Kerrigan hosted 185 guests at the Grand Hyatt Washington for his Third Annual Celebrity Waiter Night, which raised more than $100,000 to benefit the foundation. Among the efforts funded by the annual event are "Ryan's Reindeer Rush," in which he tows a wagon full of footballs, photos and more to personally deliver to the patients and families in the Children's National Health System, as well as "Kerrigan's Korner," a in-patient surgery wing locker stocked with kid-friendly portable DVD players, video gaming systems, iPads, Kindles and Leap Pads for children making extended stays with the Children's National Health System.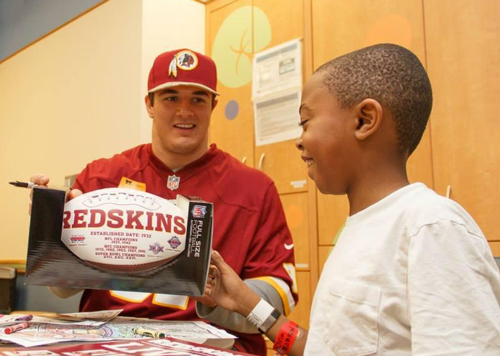 Last May, Kerrigan also hosted the 10th Annual Leukemia Golf Classic at Lansdowne Resort in Leesburg, Va., helping raise funds for the Leukemia & Lymphoma Society. Later this month, he and former Redskins cornerback Shawn Springs will co-host an event benefiting the Elaine Shuster Foundation.
Kerrigan joined the Redskins as the No. 16 overall pick in the 2011 NFL Draft and has started all 75 regular season games and one postseason game played by the franchise since his selection. He earned PFWA All-Rookie Team honors in 2011 and earned a Pro Bowl selection following the 2012 campaign, and his 44.5 career sacks are third-most in team history since the NFL made sacks an official statistic in 1982. Since being drafted, the native of Muncie, Ind., also returned to Purdue University during previous off-seasons to complete his degree in May 2013.
The prestigious Man of the Year award has been given annually since 1970. The award was renamed in 1999 for legendary Pro Football Hall of Fame running back Walter Payton.Past Redskins winners of the Walter Payton Man of the Year include: Darrel Young, 2014; Alfred Morris, 2013; Joshua Morgan, 2012; Lorenzo Alexander, 2010-11; London Fletcher, 2008-09 (selected as NFL finalist in 2009); Rocky McIntosh, 2007; Renaldo Wynn, 2006; Shawn Springs, 2005; Chris Cooley, 2004; Darnerian McCants, 2003; Eddie Mason, 2002; Chris Samuels, 2001; Darrell Green, 1996 (won the national award); and Joe Theismann, 1982 (won the national award).