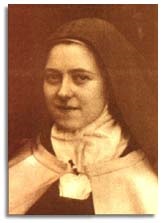 "In praying, do not babble like the pagans, who think that they will be heard because of their many words. Do not be like them."
I am reminded of the story of Elijah and the 450 false prophets of Baal who ended up slashing themselves so that the blood ran freely just so their "god" would hear them. He never did. Elijah prayed simply and God did more for him than even he prayed for.

I am reminded of the people, ministers included, who scream out prayers to God in public and carry on expressing every thought they are having and calling it prayer.
I am reminded of St. Therese of Lisieux who said, "For me, prayer is a surge of the heart; it is a simple look turned toward heaven…."
I am reminded of Jesus, who said, "In praying, do not babble like the pagans, who think that they will be heard because of their many words. Do not be like them." Why? Because "Your Father knows what you need before you ask him."