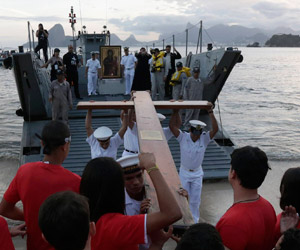 Cross landing: 63 days remaining until WYD '13.

In this photo from CNS/Reuters found on catholicnews.com, sailors from the Brazilian Navy deliver the World Youth Day cross to a representative group of young Catholics who will continue the global procession that has carried this crossIt has taken part in WYD in Paris (1997), Rome (2000), Toronto (2002), Cologne (2005) and Sydney (2008). It also travelled around Africa(2006), Oceania(2007), Australia (2009) and Spain (2011) according to centrosanlorenzo.com which houses the cross.

Now in 2013, as young pilgrims make final preparations for Rio 2013, the cross has landed upon the shores of the new Pope's home continent. I'm sure this duty was not one that these sailors had in mind when they signed up to defend their country on the seas. Yet what a significant and symbolic role they played as they brought the cross from sea to land, government cooperating with religion, a way of truly defending their country againt evil.