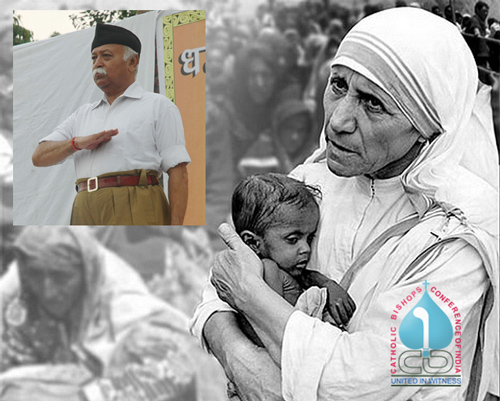 (news.va) The Catholic Bishops' Conference of India notes with concern and distress the statement made by the RSS Chief, Shri Mohan Bhagwat, as it appeared in the Media, casting aspersion on the saintly person of Mother Teresa and attributing ulterior motives to her life-long humanitarian services to the poor and the sick, to the abandoned and the destitutes. They say it is quite unfortunate that the services of such a world renowned Nobel Prize laureate and Bharat Ratna awardee be dragged into such unwarranted controversies.
Elaborating on her services the statement says that Mother Teresa never had any hidden agenda nor did she ever use her services as a cover up for conversion. She always maintained that her main concern was to ease the suffering of people and to help the poor and the suffering to lead a life of relief and self-respect. And added that to the repeated questions, as to what was her motive for such a self-effacing service to the poor and to the suffering, her consistent reply was to help the Hindu, live a better Hindu, the Muslim, a better Muslim and the Christian, a better Christian with proper human dignity.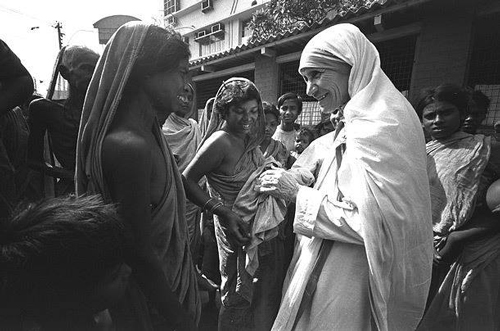 Quoting eminent people like Mr. Navin Chawla they say he closely watched her life and activities and has testified to the world who Mother Teresa really is. He has written an authorized biography, describing Mother Teresa's mission of faith, labour of love and the principles that guided her humanitarian services to the mankind, regardless of caste, creed or colour. Mother Teresa has become a symbol of love, care and compassion for the world, a legacy that will be carried on for ages to come.
Delhi Chief Minister Arvind Kejriwal on Tuesday also criticised RSS chief's statement on Mother Teresa, and said that he worked with her for a few months at Nirmal Hriday ashram in Kolkata. "She was a noble soul. Please spare her".
Upholding the freedom of speech of every citizen of India, the CBCI wished that that the nation's age-old passion for truth, unbiased support for the humanitarian works and compassion for the poor and the suffering may not be jeopardized by any cynical motive or intolerant gesticulations. The Catholic Bishops' Conference of India once again renews the fond memories of Mother Teresa, one of the greatest humanitarians of the 20th century.